Been a long time and a lot has happened in between. Here is something I wrote awhile back that should have been posted here. Meanwhile, I still get new info on Jack and have sent my book to a few prominent people trying to perhaps get a movie made if not at least more exposure to his story. Here's a story of Jack McQuesten and Jack London -
London and McQuesten
One of the more interesting tales of our family is of how Jack London received many of his ideas and background for his stories of the Northland from Captain Jack McQuesten. We know beyond any doubt that London knew McQuesten as he says so himself. He says where and when they met and he speaks in considerable detail about Captain Jack.
In addition, our name (spelled McQuestion) is mentioned in at least four books, four short stories, and an essay - all written by Jack London. I have a book of his writings and the first two stories are Batard and Call of the Wild, because these are considered his best. McQuestion is mentioned in both of these tales. In Batard, the little town of McQuestion is mentioned, in particular the surgeon at McQuestion. It is interesting to note that some of the best photos we have of Jack McQuesten were taken by a doctor who lived at Jack's town of Forty Mile. I have his complete diary but am not allowed to quote out of it yet. I can use it for reference, but it is in litigation over some of the language used.
In Call of the Wild, McQuestion River is mentioned. From that point on in the book, Buck, the canine hero returns to his wild heritage. It is no wonder. I have been to the McQuesten River and it is remote. It is about a three and a half hour drive from either Dawson (which is very remote in itself), or Whitehorse, nearly as remote. There is an airstrip, basically a clear spot in a field, called McQuesten Airport for bush pilots to land on. At the little "town" called McQuesten there are just a few buildings. One is a very large and nice log cabin lodge called McQuesten Lodge. The owner is of Eastern European descent, with no real connection to Jack or the Yukon, but he built this lodge with the idea of it becoming a shrine, as it were, to Jack McQuesten. The government put so many restrictions on him that he had to slow down to a crawl. Still outbackers and canoeist use it to crash in.
Anyway, back to London and McQuesten. In addition to London's writings about McQuesten, the descendants of Captain Jack say that London was at the McQuesten Mansion in Berkeley quite often. London lived only 10 miles from McQuesten, and attended college only a mile and a half away while attempting to get a writing degree. He finally gave up on the degree BUT he is the first person to become a millionaire from his writing. This happened while he was visiting Captain Jack. In fact, he never published a single Yukon story until AFTER he and Jack McQuesten moved near each other in California.
And, from the very beginning Jack London started including the McQuestion/McQuesten name in his stories. In fact, in Burning Daylight he refers to "those elder giants, Al Mayo and Jack McQuestion."
Recently, I found even more "proof." In Call of the Wild London tells how Buck kills a black bear that was fishing in a river and was stung so badly in the eyes by mosquitoes that he couldn't see and was in a rage. Well, this very tale was called "McQuesten's famous yarn" by Lieutenant Fred Schwatka, the first man ever to transverse the entire Yukon River. In this case however, the bear was killed by a man, not a large white dog named Buck. George Snow, the first historian of the Yukon Order of Pioneers, who knew Jack McQuesten personally, elaborates on the story, telling us it was Jack's partners, Joe LaDue and Mickey O'Brien, who came upon the bear and shot it to put it out of its misery.
Here is a case where London used an exact episode as told by Jack McQuesten, only changing the bear killer from one of Jack's partners to the dog hero, Buck. If I had time, I could probably sift through all of London's writings and find other stories lifted from McQuesten's life.
There are two short stories that are said to be based on his life - The Wife of a King, where he refers to the main character as the King of Circle City, which McQuesten essentially was in real life - and - The Story of Jees Uck, which Dick North, curator of the Jack London Interpretive Center, and visitor to the McQuesten Mansion when Jack's children were still alive, says is also based on Captain Jack's life. One of the characters in this story is Spike O'Brien, and Jack's partner was Mickey O'Brien.
Son of the Wolf is the first book Jack London ever had published, and it has our name in it. A Daughter of the Snows is another London story with our name in it, as is Smoke Bellew.
There are at least nine separate stories that London wrote that I have found containing our name. There may be more since he was such a prolific writer. He expressed his admiration for Jack McQuestion in this way -
"Jack McQuestion aptly vindicates the grip of the North. After a residence of thirty years he insists that the climate is delightful, and declares that whenever he makes a trip to the States he is afflicted with homesickness. Needless to say, the North still has him and will keep tight hold of him until he dies. In fact, for him to die elsewhere would be inartistic and insincere. Of three of the "pioneer"pioneers, Jack McQuestion alone survives. In 1871, from one to seven years before Holt went over Chilcoot, in the company of Al Mayo and Arthur Harper, McQuestion came into the Yukon from the Northwest over the Hudson Bay Company route from the Mackenzie to Fort Yukon. The names of these three men, as their lives, are bound up in the history of the country, and so long as there be histories and charts, that long will the Mayo and McQuestion rivers and the Harper and Ladue town site of Dawson be remembered. As an agent of the Alaska Commercial Company, in 1873, McQuestion built Fort Reliance, six miles below the Klondike River. In 1898 the writer met Jack McQuestion at Minook, on the Lower Yukon. The old pioneer, though grizzled, was hale and hearty, and as optimistic as when he first journeyed into the land along the path of the Circle. And no man more beloved is there in all the North. There will be great sadness there when his soul goes questing on over the Last Divide, — "farther north," perhaps, — who can tell?"
27 September 2010
Though I've been away for awhile, a lot has come my way to share. First, I did receive an advanced copy of the Forty Mile doctor's diary. However, until some decisions are made by others, I am not allow to quote from it. I will say that Captian Jack McQuesten is mentioned many times in it.

Also, I was sent two images of the location of Jack's father's grave. He was John McQuesten, sometimes known as Captain John. In addition, I found two images of what still stands of Jack's home and store in Forty Mile, plus a document he filled out describing Mitchell Post Office.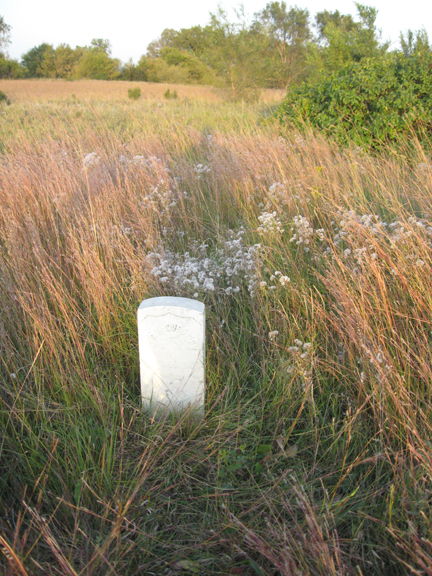 Captain Jack McQuesten's father, John, is buried in this lonely grave in a field in Ghent, Minnesota.
I was sent these photos by a lady who lives nearby. Her 4 year old son calls him Captain John TheQuestion.
John came to this area in his later years to live with a son who was mining in this area. There once were other graves around this stone but they were all moved to a nearby Catholic cemetery. Only John's stone remains.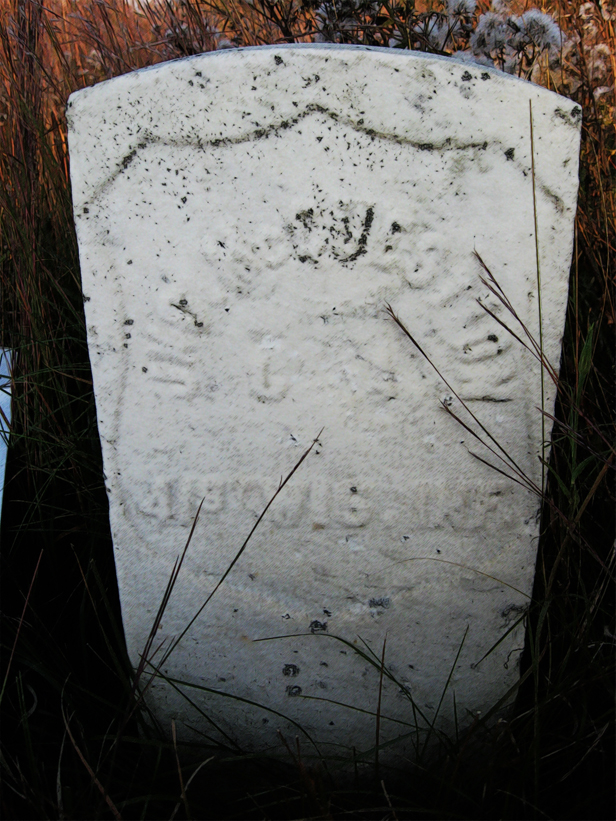 The cemetery is the Grandview Cemetery. Every Memorial day, the Ghent Legion mows the site and flies a flag, also holding a small ceremony at the site.
This is considered a Civil War grave as John's was a member of the 41st Regiment Wisconsin Volunteer Infantry, an infantry regiment that served in the Union Army. It was among scores of regiments that were raised in the summer of 1864 as "Hundred Days Men," an effort to augment existing manpower for an all-out push to end the war within 100 days. This explains why records say he only served about one year toward the end of the war.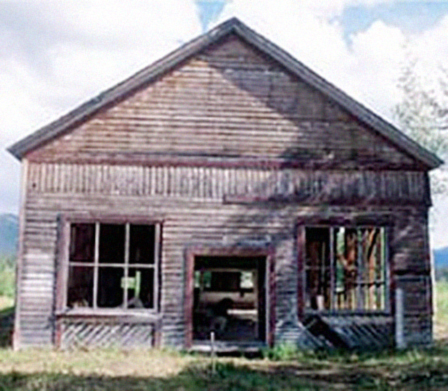 This is Jack's store looking east. It still stands and is part of the restoration of Forty Mile. It is probably the true location of the Mitchell, Alaska Post Office even though it was located in Canada.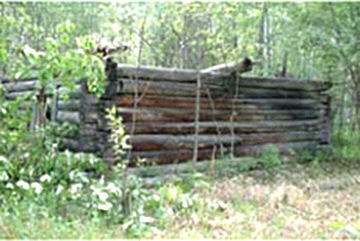 This is presented as the home of the employee of the Alaska Commercial Company - that employee was Jack McQuesten. It is thought to be the oldest building in Forty Mile and I've read that Jack had the largest house in Forty Mile.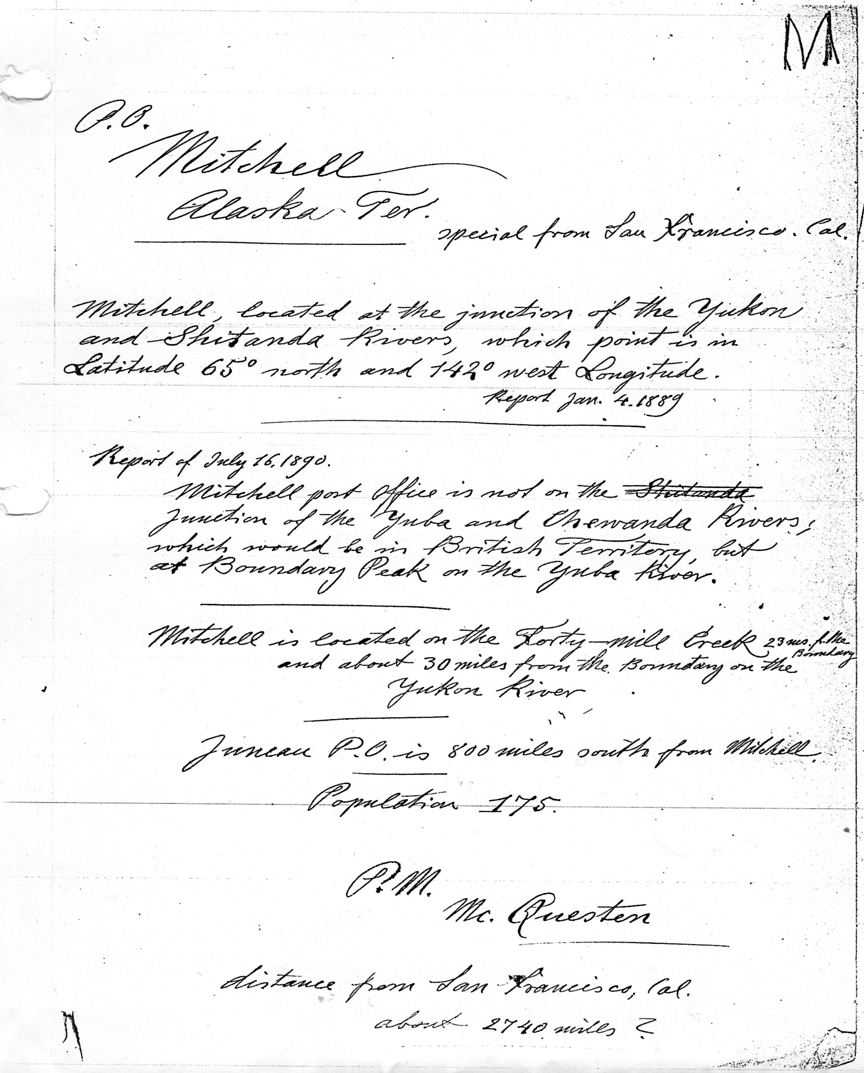 This form shows some vague descriptions by Captain Jack McQuesten in describing the location of the Mitchell Post Office.

Why?

Because it was most likely in Canada but he claimed it was in Alaska so he could get U.S. mail delivered there. Some have said it was a few miles over the border and Jack seems to be saying this, too, in this form. However, a collector of post office memorabilia in Germany sent me some scans including this one.

The collector believes the P.O. was actually in Forty Mile and he includes a Yukon Press newspaper article from their very first issue in 1894 saying how odd it was that the Mitchell P.O. and its postmaster were both in "English" territory.

Jack's signature is only slightly different from two others I have of his. Really only the Q is written differently on the other two, but there are marked similarities between all three.

Ed and Star Jones have sent this along concerning Mitchell. Their comment is the final paragraph.

1) Story of Our Post Office: the greatest government in all its phases

Marshall Henry Cushing:

"The remotest office belonging to the U.S. is at Mitchell, far up in the interior of Alaska. The spot is a little mining camp near where the waters of Forty Mile Creek flow into the Yukon River. The people are not quite certain whether the United States or Canada owns the land, for the boundary line is quite near; but at any rate the United States has the office. The mail is carried irregularly by anyone who chances to be going that way." p. 36

2) U.S. Census Bureau, 1890, Resources & Population of Alaska

"Mitchell Post Office,... population 258; 194 males, 44 females"

3) Alaskan Philatelist

2nd Quarter, 2006, p. 22, President's Message:

"I want to thank ACC member Robert Binner of Munich, Germany, for calling my attention to his research concerning the first post office that served interior Alaska and what is today the Yukon Territory: Mitchell, Alaska. This Pre-Klondike post office operated from 1890 until April 1895 and was located inside Canada at Fortymile. The office was started by the famous trader, L.N. "Jack" McQuesten."

4) Alaskan Philatelist

4th Quarter 2005, p. 51, President's Message:

"Richard Helbock reports the post office (1889-1895) was located inside Canada at a trading post operated by LeRoy N. McQuesten at Forty Mile on the Yukon River. However, Robert Woodall in "The Postal History of Yukon Territory, Canada" reports Mitchell may have been located up the Forty Mile River in U.S. territory. A visitor to Forty Mile in 1893, Warburton Pike, in "Through the Sub-Arctic Forest" also seems to imply that McQuesten was not the postmaster! At least we know that an 1895 postal card mailed to England from Mitchell was one of the top-selling items in the Seely Hall collection that was sold in the H.R. Harmer Auction last February!"

Ed and Star - "We have not been able to find a map showing the actual location of Mitchell. It appears, however, from the available records that Mitchell was established by the U.S. Postal Service. Perhaps mail brought to Forty Mile was delivered to Jack's trading post, and handed out to miners as they arrived for supplies. It may be, too, that Skiff Mitchell was mining near the site, and contacted the U.S. Postal Service about estblishing the office. Having little information about the area, his name may have seemed to be as logical a title for the post office as any."





13 May 2010

Some very exciting news. The diary of Dr. Kingsbury, who accompanied the McGrath survey group to Alaska, and the man who took the photos of Jack McQuesten shown in my book - that diary has been transcribed and I have received an unredacted version of it. I am not allow, yet, to quote from it, but I can say that this contempoary of Captain Jack, writing in real time, speaks of him just as all the others have - as an honest, generous, helpful man.

When and if I am allowed to quote from it, I will repeat some of the better stories written in this two year long diary.

28 April 2010

I haven't updated for awhile but two new items have crossed my desk, so I thought I'd take a minute to catch up.

First, a note from New England - A year or so ago a man named Cass Wright, from New England, wrote to tell me of a story he had heard while looking for good malemutes in Alaska. He was in a bar near Fairbanks when he heard the locals telling about how Captain Jack McQuesten rescued some Indian children. Seems their tent, in Yukon, had burned, killing their parents. Some white missionaries took them into Alaska against the will of the remaining family members. Jack amassed a small posse, including one former Marine. This may have been his good friend Al Mayo who is known to have served in the Civil War.

Jack and friends rode horses into Alaska, found the children, and on their return trip, toppled and burned telegraph poles to prevent the news from spreading to the Mounties in the Yukon. He commented that they "probably wouldn't be welcomed back anytime soon."

Well, Cass is an Alaskaphile and Yukonite in spirit, plus a malemute owner and sledder. His own maternal great grandmother's two brothers struck it rich supposedly in the California gold fields but were murdered on the way home and all the gold stolen. This was in 1894. Cass could never coordinate the event with any actual California gold rush.

Just a few weeks ago he met with his 99 year old aunt who showed him letters from the two murdered men about their experience. In the letters they do NOT mention Jack McQuesten by name, but it appears they HAVE to be talking about him.

Cass's aunt told him it wasn't the California rush but the Alaskan rush where the men got their gold. The telegram of their death arrived in 1894. Jack was still in the Yukon until 1898, with at least one trip back in the summer of 1899.

Cass's best reconstruction of the old letter is explained this way, by him -

> He & his brother had met a "very well-set trader" in "Talnana" (Tanana?), who had been "a help finding an outfit" - then went on to describe how this "trader" had intervened on their behalf with some bad-mannered Russians, and then had given them some "good, solid advice" . . . "We feel we can trust this man," my great-grandma's brother wrote her: "he was brought up Scotch Yankee, like ourselves, and his word is solid." <

Well I wrote Ed Jones, who helped me put together the Captain Jack story and he agreed with me that there were no other Scotch Yankee (or New England born) traders at that time, and in that place. Harper was born in Ireland. LaDue was French. They were the main traders, and Jack is absolutely known to have traded at the Tanana Station store. Jack was also well-known for his "solid word" and for giving out advice on where to hunt for gold.

If it wasn't Jack, the only other possibility was his best friend and constant business partner, Al Mayo, who was born in Maine. Problem is, Mayo was not Scotch. He was Irish, his family most likely coming from County Mayo, Ireland. Only Jack McQuesten fits the description given of the trader.

It seems, without any doubt, that these men got their grubstake and advice from Jack McQuesten. You can imagine how excited Cass is now, that his own great grand uncles met Captain Jack McQuesten. He's read my book twice and says that although he tries to read it like an adventure novel but says -

"this time I tried to read the bio of old McQ like a novel, cause God knows there's plenty enough adventure in his life for a dozen or more matinee potboilers, but try as I might, just like the first time, I was constantly getting excited & distracted about connections that were made all the way through your text about all matter of things historical & geographic & political & sociological & racial & demographic that were going on back & forth across Yukon & Alaska & B.C. & the Pacific NW. It really seems like every aspect of McQ's life had some great historical or demographic or newsworthy aspect to it; talk about the right man at the right time & place!"

Another very interesting piece of news on Jack and his California days -

I knew that Captain Jack McQuesten's father had been involved in mining (for lead) for quite awhile before heading off to the gold fields in California, most likely in 1849. Jack is said to have joined his father, brother and two cousins, in 1850, but the team of six strong men didn't stay long. I had wondered why.

Now, in one of those strange, strange cases we often run into, the answer has been provided by another family member, Frank. W. McQuiston Jr., author of "GOLD: The Saga of the Empire Mine."

Frank's family comes out of my branch of the family, through James the spy and on to nearby Erie, PA, until his father moved to Colorado. Frank became a metallurgist and eventually began working for the Empire Mine. He became interested in their history, and the general history of gold. Frank worked right near where the McQuestens had mined for gold in California, only a couple of generations earlier. Here are excepts from his explanation of the situation as found by his "cousins" in 1850, with some important notes of mine interspersed -

"The first discovery of gold in the Sierra Nevada is credited to J.W. Marshall, who in January 1848 found nuggets in the millrace while constructing a saw mill at Grass Valley. . . shortly after Marshall's discovery, the discovery of rich placers in 1850 in Deer Creek, near the site of Nevada City brought the first gold rush to that area."

JIM'S NOTE: I am going to post a map that shows just how close the town of Rough and Ready is to Deer Creek and Nevada City. First, I have to wonder if it was a coincidence that the Klondike was named Deer River on early maps and was just six miles from Jack's first trading post on the upper Yukon, Fort Reliance. One reason I wonder is there are very, very few mentions of deer living in this area. It's always moose and bear, unless they meant caribou which are part of the deer family. Jack never mentions killing a deer or even seeing one in that cold, cold region. It could just be a common name for a river. Jack is credited with naming the Klondike by it's Native name, Throndeg, or variations of that spelling. He is the first known man to write down the Native name and he wrote it with three different spellings in his booklet.

Rough and Ready was settled by miners from Wisconsin, where the McQuesten boys came from. Of special note is that they were led by a man named Townsend, and settled Rough and Ready in 1849, just when Jack's father and cousin are said to have arrived there. For you DNA watchers we match a considerable number of Townsends. I was in contact with one of their genealogists, but shortly after I presented our "proof" of the longevity of the McUisdean name, he quit writing me. Could it be that this is the link, that somehow one of the McQuesten men "planted" their DNA in the Townsend line, somewhere between Wisconsin and California? We need to find out the Townsend family history as concerns this period in time.

We know Jack and his family were in Nevada County in 1852, most likely in Rough and Ready, and if you look to the left on the map I will post shortly you can just make out where the Feather and Yuba Rivers come together just below Yuba City. This the exact place where Jack's brother John Adams McQuesten, and his sister, Louise, and her husband, owned a forwarding warehouse until it was destroyed in a flood in the late 1850s. We think Jack was in Oregon by 1855, probably along with his family. He is said to have worked on a farm there for a short time before joining the Army. However, in the year that he joined the Army, Walter McQuesten said that rumor had it, Jack first saw action against warring Indians in Arizona. Though California borders Arizona, the area Jack's family lived in was not that close. So it is hard to say whether he actually fought in Arizona, or just joined up in Oregon where he definitely fought in the Walla Walla Indian wars in 1855.

The bottom line is that the family definitely was moving on to Canada, from the State of Washington, by 1858, so they lingered somewhere between Rough and Ready, California, and Port Gamble, Washington - spending roughly nine years in the western U.S. gold rush. So why did they move on when gold mining actively continued in California for well over another one hundred and fifty years? We go back to Frank McQuiston for the answer.

"The first find of gold-bearing quartz was the discovery of the Gold Hill ledge in June 1850 . . . because of the richness of the ore and the fact that a satisfactory method for recovering that gold still needed to be developed, the early claims were only 30 by 40 feet. The discovery marked the advent of new mining techniques . . . strange to the majority of the men working placer deposits . . .No individual, or even several men, could make a go of it with muscle alone. Pick, shovel and gold pan - the usual equipment - were inadequate. Mining quartz veins required heavy machinery, explosives, the building of superstructures . . . The capital this required demanded pooling of resources by groups, not only of miners, but of outside investors. The learning process was slow . . . trial, error, and disappointment account for the frequency with which many early claims changed hands."

JIM'S NOTE AGAIN: So there you have it. The nature of the gold mining warranted large companies and large equipment, with many failures until a good method was developed for getting the gold out of the quartz. Not so with the gold reported in the rivers of Canada and so our boys left in 1858 for the Fraser River. Finally, in 1863, the rest left Canada, leaving Jack behind to make his way to the Yukon with his new-found friend, Al Mayo.

24 April 2009

I have found a few new things on Jack. Also, I may have a couple of bookstores handling the book in Alaska, very soon.

First, a stanza from a poem I found online from a 1921 poetry book, by D. Noonan. The poem is called Alaska's Hall of Fame.


We need a few more men up here,

The kind like our old-time pioneers,

That bear the trials of a rugged land

And work for it with heart and hand;

That know the dread of solitude

Yet brave the secrets of the wood;

Not life's flotsam, or its jetsam,

But of the grain of Jack McQuesten!

Next - Jack's actual weather records laid out in a chart are viewable beginning at:

Click Here for Jack's Records

Finally, some of the information has come out from the diaries of the Forty Mile doctor who photographed Jack and his family and friends. The actual diaries are being processed now but here are a few tidbits from them as sent to me by a Yukon historian:

"Monday, August 4th 1890

Cloudy & cool, raining at times, heavy rain at night. Worked on reports & accounts. This afternoon Robt Lawrie, a miner from 40 Mile, came into see me about his health & try & get some flour & stuff to live on until the steamboat arrives. He is the most successful miner on the creek & is the man that owns the moose, which he is going to try to make do some hauling this winter."


"Sunday, February 22nd, 1891

Cloudy all day Lt snow at night. This morning I examined Lawries eyes & found an ulcer of the cornea of the left eye. He was struck with a piece of brush on his eye last November & he has been bothered withit ever since. I sent him up some stuff for his eye by Campbell on Jany 16th or there abouts, Today I washed out his eye & removed the yellow slough from the cornea. This afternoon his eye was much better.

This morning McQuestion let his moose in the house to be fed, she is a last springs calf & is as tall as a full grown mule. She is broke to pull & they haul wood with her every morning. She eats scraps of bread & turnip peelings & runs around loose. Today I went around & called on Mayo & Family. He has not yet put up his partitions but is going to put them in next summer after the house settles.

Yesterday coming over the bad trail the men cached the sugar & today MayoÂ's Boys went down after it & brought it in to the post. I examined Mr. Bass this am. Mayo gave me a fine nugget today (211.198 grs). I had a long talk with Mayo this afternoon a in his house. His boy played on the violin for me. Tonight the usual crowd got in at Jacks & the regular game of Whist went on."


"Monday, February 23rd, 1891

Cloudy nearly all day, Threatening snow. This morning we all went out & saw the moose haul wood. I called on the village blacksmith (John J. White) & made arrangement with him to get my knife fixed also to get the frying pan mended. This afternoon we hung up a big sheet in MayoÂ's room & I took pictures of nearly the whole McQuestion, Mayo & OÂ'Brien crowd. Then I took several shots at the various buildings & one at the post from down the river. The men played cards in Mayos house tonight. McQuestion & I beating all competitors."


"Sunday, May 24th, 1891

Cloudy all day Sun out at times & very hot. This morning some of the squaws came down & tried to say something about a 40 Mile Indian in a miners boat sleeping some place. That was all we could make out of their talk so Davis & I walked up to Siwashoille & found Big Paul there. He had no mail & said no miners had yet come in but that McQuestion was looking for them every day & had an Indian there ready to bring our mail to us should any come. He says Jack had recÂ'd a letter from Harper saying he would be down in a week if he did not put in a garden but in case of his making garden he would not be down for 2 weeks. Fort Reliance Indians have reached 40 Mile Post bringing the new that the river was open to that point. The ice is all out of Stewart River. MayoÂ's arm is not very good, but he will not come down here about it. They are working our moose to the plow at JackÂ's & are putting in their garden. Paul goes home tomorrow."


"Anyway, there's the documentation on the moose! There are also references to the massive quantity of turnips that Jack sent down to Camp Davidson. (The fellows at the camp got quite tired of turnips by the end of the winter ........) Plus just oodles of entries about Jack's trading."


Jim's Note: It is interesting that this fellow spelled the name McQuestion, just as did Jack London, and he apparently knew Jack McQuesten very well, being his card partner and all. I'll try to stay up on these stories a little better, this year.




17 December 2008

I had read where Jack secured the first Dall Sheep specimen for the Smithsonian and I guess I always thought he was the one who shot it. Today I found Edward Nelson's actual report to the "United States Museum" in which he writes:

A NEW GEOGRAPHICAL RACE OF THE MOUNTAIN SHEEP (OVIS MONTANA DALLI var. nov.) FROM ALASKA.

By E. W. NELSON

During the course of my residence at Saint Michael's, Alaska, and subsequent travel along the Arctic coast of this Territory, between July, 1877, and September, 1881, hundreds of skins were seen of the Mountain Sheep, which I here designate as a new geographical race.

The types of the new race are two specimens brought me by Mr. L. N. McQuesten, a fur-trader living at Fort Reliance, on the Upper Yukon River, near the point where it crosses the British boundary line. These specimens were killed by the Indians on some mountains south of Fort Yukon, and on the west bank of the river.

From Mr. McQuesten, and various other fur traders along the Yukon and elsewhere, and my own observations, I learned that the range covers nearly all the mainland of Alaska where there are mountains, excepting the vicinity of the Bering sea coast.

JIM'S NOTE: I spoke with a representative at the Smithsonian and she found and old set of Dall Sheep horns but there was no indication whether this was the one Jack provided. I was very surprised and pleased at how quickly she called me back - probably no more than 10 minutes!

16 December 2008

I found a Boston newspaper article written only days after Jack passed away. The information was likely provided by Jack's immediate family in Litchfield, NH, which isn't that terribly far from Boston. The article agrees that Jack came back from the Yukon with about $2 million that he panned out of the Stewart River. It goes on to say that he made some of his fortune on Dominion Creek and was the third person to arrive there once gold was found. Dominion Creek was hit about the same time as the Klondike but was overshadowed by that great rush. While the Klondike had more gold per mile, Dominion had more miles of it and so they were nearly equal in output. The first rush took place in June of 1897 and continued on for many years. Jack left the Yukon in 1898 although he returned again in 1899, and perhaps after that. Being a cagey old prospector with 40+ years under his belt he likely worked the Dominion while everyone else was rushing to the Klondike. He also very likley understated his claims to avoid Canadian customs men.

My sister also found a couple of card games from the Yukon, one being named Yukon. In this game the Jacks are high with the Jack of Spades being called the Grand Yukon and the others simply Yukons. Thus Yukon Jack could well have been somehow associated with this game. Captain Jack spoke of spending endless cold winter months playing cards. The other card game was called Klondike, but was originally called Canfield. Jack's assistant in setting up Fort Reliance was a boy named Banfield. Perhaps there is some link here.

Finally, both Alaska Magazine and Gold Prospectors Magazine are going to review my book!

21 November 2008

Heard from the family of trapper, James Monroe Bean, yesterday. I had guessed that this was his full name since some records had him as James Bean and others as Munroe Bean. Since James Monroe was president not too long before this it seemed like a good guess, and was correct. James' wife was perhaps the first white women in Alaska. She was certainly the only white women during Jack McQuesten's first few years along the Yukon. Mercier reports this as fact and there is no other evidence that I have yet seen to refute it.

James and his wife had a son named Elbridge who survived the Indian attack. He is said to be the first white child born in the interior of Alaska. His nickname was Ellie and he was brought back to San Francisco and sent, by train, to Illinois. My thanks to Bean's great granddaughter, Marcia, and her husband, Mike Hansen, for this new information.

In addition to the Bean family, and of course the McQuesten family, I have also heard from Kate McQuesten's Athabascan people, and from the family of Gordon Bettles, the famed Alaska newspaper man, and friend of Captain Jack. Others I've met in Yukon had family members who worked with Jack, and still more individuals have passed on stories they've heard of Jack while visiting Alaska or Yukon. Leroy Napoleon "Captain Jack" McQuesten is still bringing people togeher after all these years.

17 November 2008

I've just received a copy of a report by Smithsonian ornithologist, Edward Nelson, that mentions Captain Jack McQuesten several times. I am adding a new link to the website "Jack, the Naturalist" to record some of the new information. I regularly get snippets about Jack to add to our overall knowledge of him. One is a quote by him about a fight he witnessed between a lynx and a red fox. Jack states, "The lynx sprang upon the fox, in comparatively open ground, evidently trying to capture it for food. The fox instantly made tight, and for a few moments the fur flew right and left. Then a short pause followed and the fight was renewed. A second pause ensued, and after the two had glared at one another for a few moments they slowly withdrew in opposite directions, the hair on each bristling defiance, but each apparently satisfied to close accounts."

13 October 2008

I'm all excited about the Iditarod show that's going to start on Discovery TV very soon. I live in a small Pennsylvania town, which, suprisingly, has one of the larger dog sled races in the lower 48. The town is Warren, PA and the race is held in conjunction with an event caled the Winterfest, this year to be held January 25 - 27. I updated a few of the pages on this website tonight, just to keep them current and informative.

10 October 2008

I signed up for a new service at newspaperarchives.com. It costs a little each year to be a member but has lots of old articles scanned in. I just started and here's what I've found, so far.

1910 Boston Journal article, which was written a few days after Jack's death, claims he came back with about $2 million and that Jack London was his friend.

9/16/1897 New Haven Register - "Every man now going to Dawson" says McQuesten, "either by St, Michael or the Chilkoot is taking his life in his hands. While there is plenty of food in St. Michael, it cannot be taken up the river in time, this season. The river is very low, the past season having been extremely dry." Regarding royalty levied by the Canadian government, McQuesten thinks that it will not be collected for the miners will not stand such an imposition and will move over to the American side, where, he maintains, equally good diggings can be found. He says, also, that agents for the Rothchilds and other British banking companies are now in the country endeavoring to buy as many claims as they can secure options upon.

9/6/1912 Daily Alaska Dispatch (article called "Viva Le Sourdough") - The arrival in Dawson last night of Mrs. Jack McQuesten, wife of the Father of the Yukon, recalls vividly, to earlier comers, the glory of those wild, free days when the North lay slumbering. The giants of those days hewed the way over mountains and through the valleys. They inspired others to come, who located the gold. The Yukon will do well to honor these first empire builders of the territory with a monument.

7/16/1916 Dallas Morning News (article called "Dawson Dwindles with Klondike Gold Supply) - A man was telling last night of Jack McQuesten who lived at Forty Mile, a camp on the Yukon. McQueston's (sic) store was in a log cabin and he had goods of every description. One day a miner came in and asked for a needle. He was handed out one and told that the price was 75 cents. The man took the needle between his thumb and finger, looked hard at it, and then asked McQueston:

"Say, pard, 'ain't you mistaken? Can't you make it a bit cheaper? That's a hell of a price for a needle."

"No", said the storekeeper, "I'd like to if I could, but, man, just think of the freight!"

Also found a newspaper notice where Jack's grandfather, James, filed for divorce against Ann Moor. Another article has a quote from James on the election of Andrew Jackson. I'll post these stories at a later date.

6 October 2008

Part two of the PBS documentary on dogs aired last night and I watched this episode, too, with interest. The writers seem very sure that all dogs descend from wolves, that the earlist evidence of domestication took place in northern China and/or Siberia and that these breeds spread across Europe and America from there. They also say that dogs are very easily bred for specific purposes and that the breed can change dramtically through the years. They showed old photos of bulldogs who were much leaner and taller than today's breed, and much more suited for their job of controlling bulls. So my early images of Siberian "huskies", although they look somewhat different, may indeed be the forebearers of the modern Siberian Husky. My research included many old books written at the very time of exploration of the Great White North and based on information gleaned from the people actually raising and breeding these animals. Jack entered the Yukon with four dogs. I would love to know what kind of dogs they were.

3 October 2008

I received an email from a gentlemen, well versed in Yukon history, yesterday. He pointed out a few corrections for the book. Most important is that the picture I have identified as Ed Scheiffelin, is not him but rather his photographer. This was not my error as it is apparently mislabeled in the Alaskan archives where I found it, and this man and others are petitioning the archives to replace it with an actual picture of Ed. The other two smaller items were that Muir was apparently not the first whiteman to visit Glacier Bay, although he was first to research and investigate it. My source says different so I need to review this. Also, he claims Chief Hole-in-the-face was at the attack on Fort Sekirk, where my source says it was his father. In this case we could both be right in that both men could have been there. I'll need to look into this one, too.

Awhile ago I received my only other correction. Julia Horsfall was apparently not Jack's daughter, Julia, as I had been told by a few historians in Dawson. They weren't sure and were investigating the story so I tried to make this clear, in my writings, that this was only a theory. Now proof has appeared to discount this story.

Considering how in-depth the book is, four small errors don't seem too bad at all.

I've also received a half dozen new stories about Jack, which I will post here. If I ever revise the book or do a sequel I'll make corrections and additions there, too.

On my last day in Dawson I was sitting with many Yukon historians, with substantial credentials. They were arguing about a few points in history, here and there, proving that even the experts aren't always 100% sure. I said that I wanted this book to be the definitive biography of Jack McQuesten and someone said, "It will be, as soon as it is published. That's when you'll get letters with corrections or additions."

A few of the others chuckled over the statement and agreed. They were right, by golly.

28 September 2008

Tonight, PBS had a special on about the domestication of the dog. Their research strongly supports what I have written about the dogs of the north.

Highlights include recent Swedish DNA testing, which seems to point to upper China or Siberia as the source for all domesticated dogs, beginning about 15,000 years ago.

PBS also pointed out that, based on testing done in Siberia, on wild foxes, it is possible to produce a tame pet from wild parentage, through breeding, in as short a period as ten years. Just as I pointed out in my article, offspring were chosen for their tameness, and bred with others of similar nature until an entirely tame fox was produced. In the case of the Husky this was done with wolves. One interesting footnote: breeding for tameness also tends to breed out coloring other than black and white. Thus we have wolves principally of brown colors, whereas the Herschel Island Huskies, and many other sled dogs, tended to be of white, grey, and black colorings.

Finally, the documentary pointed out that, without the domesticated dog, regions like the Artic would never have been settled, so important were the services of the animal, from pulling loads to hunting, from watchdog to companionship, to herding other animals, especially goat and sheep who tend, in the wild state, to live in rugged, rocky mountains, often only accesible by dogs.

26 September 2008

A diary has been found recently, which was kept by a doctor at Forty Mile. In it he describes how he purchased a camera and darkroom equipment and took pictures of Jack and his friends, Al Mayo and Mickey O'Brien, and of Jack's wife and some of their children. These are some of the pictures I purchased from the University of Berkeley, which appear in my book. Someone is currently transcribing the entire diary and I hope to add it's pertinent contents to this website as soon as they are available.